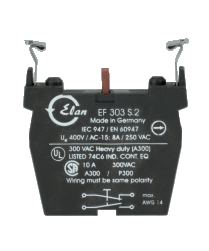 EF110.3
Screw connection
Mounting flange position 3
51-52; 61-62 (Contact labelling)
Ordering data
Product type description
EF110.3
Article number (order number)
101006543
EAN (European Article Number)
4250116201235
eCl@ss number, Version 9.0
27-37-13-02
Certifications
Certificates
cULus
CCC
EAC

General data
Product name
Contact element EF
Standards
EN 60947-5-1
IEC/EN 60947-1

Enclosure material
Plastic, glass-fibre reinforced thermoplastic, self-extinguishing
Material of the contacts, electrical
Silver
Contact labelling
51-52
61-62

Mechanical data
Installation instructions
pluggable
Mechanical life, minimum
10,000,000 Operations
positive break travel
2 mm
Note Bounce duration
Bounce duration at an Actuating speed of 100mm/s
Mounting flange position
3
Mechanical data - Connection technique
Terminal Connector
Screw connection
Cable section, minimum
0.5 mm², rigid
0.5 mm², flexible

Cable section, maximum
2.5 mm², rigid
1.5 mm², flexible

Note (Cable section)
All indications about the cable section are including the conductor ferrules.
Mechanical data - Dimensions
Ambient conditions
Protection class of the Switch rooms
IP40
Protection class of Clips or Terminals
IP20
Ambient temperature, minimum
-25 °C
Ambient temperature, maximum
+80 °C
Restistance to shock
110 g / 4 ms
Resistant to vibration
Resistance to vibration: 20 g / 10…200 Hz
Electrical data
Thermal test current
10 A
Utilisation category AC-15
230 VAC
Utilisation category AC-15
8 A
Utilisation category DC-13
24 VDC
Utilisation category DC-13
5 A
Suitable for low-voltages
≥ 5 V / ≥ 3.2 mA
Switching element
Opener (NC)
Switching principle
Slow action
Bounce duration, maximum
5 ms
Switching frequency
1,200 /h
Language filter
If a document is not available in the chosen language, the English version will be used by default.
Download the latest version of Adobe Reader
Switch travel diagram
Information on switch travel diagram
Contact closed
Contact open
Setting range
Latching point
Positive opening path/angle
Adjustable range of NO contact
Adjustable range of NC contact
After travel
The switching routes shown for the closer and opener contacts can be transferred to other contact combinations.
K.A. Schmersal GmbH & Co. KG, Möddinghofe 3, D-42279 Wuppertal
The details and data referred to have been carefully checked. Images may diverge from original. Further technical data can be found in the manual. Technical amendments and errors possible.
Generated on 01.04.2020 06:28:20