ZSD5/O.LTG
3 levels OFF-ON-OFF
Thermoplastic enclosure
1 Cable entry M 20 x 1.5
Good resistance to oil and petroleum spirit
Contacts do not close upon reset (level 3 -> level
1)
Particularly fit for robot applications in
accordance with the ANSI Robotics Standard
The redundant contact configuration enables signal
processing using conventional safety relay modules
Ordering data
Product type description
ZSD5
Article number (order number)
101199467
EAN (European Article Number)
4030661521435
eCl@ss number, Version 9.0
27-37-12-38
General data
Standards
IEC 60947-5-1
IEC 60204-1
EN 775
ISO 12100
ISO 11161
ISO 10218
UL508 1
CSA C22.2 Nr.14
JIS C8201-5-1
ANSI/RIA R15.06

Enclosure material
Plastic, thermoplastic, self-extinguishing
Material of the contacts, electrical
Silver
Mechanical data
Note (Mechanical lifetime)
NO:
Stage 1 - 2 - 1: 1,000,000 operations
Stage 1 - 2 - 3 - 1: 100,000 operations
Mechanical data - Connection technique
Terminal Connector
Screw connection
Cable section, minimum
0.14 mm²
Cable section, maximum
1.5 mm²
Ambient conditions
Ambient temperature, minimum
-10 °C
Ambient temperature, maximum
+60 °C
Ambient conditions - Insulation value
Rated impulse withstand voltage
2.5 kV
Electrical data
Rated operating voltage
250 VAC
250 VDC

Operating current
3,000 mA
Switching element
NO contact, NC contact
Switching principle
Slow action
Switching frequency
1,200 /h
Accessory
Recommended safety switchgear
SRB, 2-channel with cross-wire detection
Notes
Note (General)
Customer-specific versions, with connecting cable, are available upon request.
The monitoring module must offer the possibility of cross-wire monitoring.
Only a double shielded cable is authorised as supply line.
1) If the device is to be used in a damp room, a suitable connection cable must be used.
1) This device has been tested for impact and fire resistance according to UL508.

Language filter
If a document is not available in the chosen language, the English version will be used by default.
Download the latest version of Adobe Reader
Diagram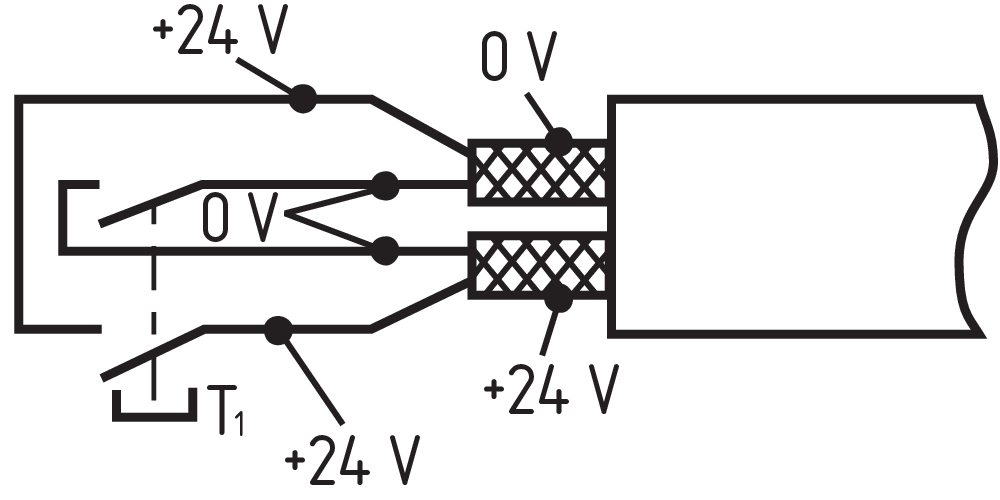 Information on diagram

Monitoring the interlock
to EN ISO 14119

Positive break NC contact

Actuated

not actuated

Normally-open contact

Normally-closed contact
K.A. Schmersal GmbH & Co. KG, Möddinghofe 30, D-42279 Wuppertal
The details and data referred to have been carefully checked. Images may diverge from original. Further technical data can be found in the manual. Technical amendments and errors possible.
Generated on 31.10.2020 20:24:38