AZM170SK-11/02ZKA-24VAC/DC
Long life
Compact design
Double-insulated
Screw connection
High holding force
90 mm x 84 mm x 30 mm
Thermoplastic enclosure
1 Cable entry M 20 x 1.5
Interlock with protection against incorrect
locking.
Ordering data
Product type description
AZM 170SK-11/02ZKA 24 VAC/DC
Article number (order number)
101183255
EAN (European Article Number)
4030661319094
eCl@ss number, Version 9.0
27-27-26-03
Certifications
Certificates
CE
cULus
CCC
EAC

General data
Standards
EN 60947-5-1
BG-GS-ET-19

Active principle
electromechanical
Enclosure material
Plastic, glass-fibre reinforced thermoplastic, self-extinguishing
Material of the contacts, electrical
Silver
General data - Features
Number of actuating directions
2
Number of auxiliary contacts
1
Number of safety contacts
3
Safety appraisal - Safety outputs
B10d Normally-closed contact (NC)
2,000,000 Operations
Mechanical data
Mechanical life, minimum
1,000,000 Operations
Clamping force in accordance with ISO14119 Fzh
1,000 N
positive break travel
11 mm
Positive break force, minimum
17 N
Actuating speed, maximum
2 m/s
Mechanical data - Connection technique
Terminal Connector
Screw connection
Cable section, minimum
1 x 0.25 mm²
Cable section, maximum
1 x 1.5 mm², flexible
Mechanical data - Dimensions
Height of sensor
100.5 mm
Ambient conditions
Protection class
IP 67 to IEC/EN 60529
Ambient temperature, minimum
-25 °C
Ambient temperature, maximum
+60 °C
Ambient conditions - Insulation value
Rated impulse withstand voltage
4 kV
Electrical data
Required rated short-circuit current to EN 60947-5-1
1,000 A
Electrical power consumption, maximum
10 W
Switching element
NO contact, NC contact
Note (Switching element)
Change-over contact with double break, type Zb or 2 NC contacts, with galvanically separated contact bridges
Switching principle
Creep circuit element
Switching frequency
1,000 /h
Other data
Note (applications)
sliding safety guard
removable guard
hinged safety guard

Scope of delivery
Included in delivery
Actuators must be ordered separately.
Notes
Note (General)
Individual coding available on request
Language filter
If a document is not available in the chosen language, the English version will be used by default.
Download the latest version of Adobe Reader
Diagram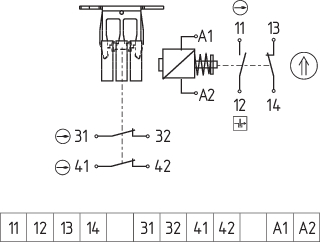 Information on diagram

Monitoring the interlock
to EN ISO 14119

Positive break NC contact

Actuated

not actuated

Normally-open contact

Normally-closed contact
K.A. Schmersal GmbH & Co. KG, Möddinghofe 3, D-42279 Wuppertal
The details and data referred to have been carefully checked. Images may diverge from original. Further technical data can be found in the manual. Technical amendments and errors possible.
Generated on 04.07.2020 07:59:28