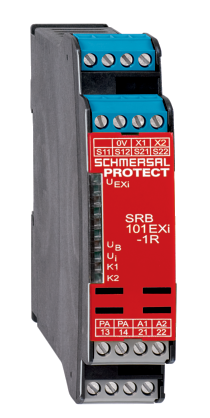 SRB101EXI - safety relay modules - intrinsically safe
Installation in Ex-Zone 2
1 safety contact
Suitable for signal processing of emergency stop control devices, interlocking equipment, etc
Go to category
SRB200EXI - safety relay modules - intrinsically safe
Installation in Ex-Zone 2
2 safety contacts
Suitable for signal processing of emergency stop control devices, interlocking equipment, etc
Go to category
Application:
The safety relay modules of the SRB EXi series combine tried and trusted safety technology with the requirements of explosion protection.

The inherently safe monitoring current circuits Ex-i are configured for devices of category 2GD. In this way, emergency stop command devices and protective safety door/guard monitoring can be used in areas with risk of gas and dust explosion.
Ex protection – ATEX
- ATEX category (2)GD for connection of devices from zone 1 or 21.
- ATEX category 3G permits installation of SRB EXi units in gas zone 2.