BNS 260-02ZG-L
Long life
Small body
Pre-wired cable
no mechanical wear
26 mm x 36 mm x 13 mm
Insensitive to soiling
Thermoplastic enclosure
Concealed mounting possible
Insensitive to transverse misalignment
Ordering data
Product type description
BNS 260-02ZG-L
Article number (order number)
101184389
EAN (European Article Number)
4030661321899
eCl@ss number, Version 9.0
27-27-24-02
eCl@ss number, Version 11.0
27-27-24-02
ETIM number, version 6.0
EC002544
ETIM number, version 7.0
EC002544
Approval - Standards
Certificates
TÜV
BG
cULus
EAC

General data
Standards
IEC 60947-5-3
BG-GS-ET-14

Installation conditions (mechanical)
quasi-flush
Enclosure material
Glass-fibre, reinforced thermoplastic
General data - Features
Integral System Diagnostics, status
Yes
Number of safety contacts
2
Safety appraisal - Safety outputs
B10d Normally-closed contact (NC)
25,000,000 Operations
Mechanical data
Ensured switch distance "ON" Sao
5 mm
Ensured switch distance "OFF" Sar
15 mm
Notice (Switch distance Sn)
Axial misalignment, a horizontal and vertical misalignment of the safety sensor and the actuator are tolerated. The possible misalignment depends on the distance of the active surfaces of the sensor and the actuator. The sensor remains active within the tolerance range.
Direction of motion
Head-on to the active surface
Mechanical data - Connection technique
Wire cross-section
0.3 mm2
Material of the Cable mantle
PVC
Mechanical data - Dimensions
Ambient conditions
Ambient temperature, minimum
-25 °C
Ambient temperature, maximum
+70 °C
Storage and transport temperature, minimum
-25 °C
Storage and transport temperature, maximum
+70 °C
Resistance to vibrations to EN 60068-2-6
10 … 55 Hz, amplitude 1 mm
Restistance to shock
30 g / 11 ms
Electrical data
Voltage type
DC (direct current)
Switching voltage, maximum
24 VDC
Switching current, maximum
0.01 A
Switching capacity, maximum
0.2 W
Switching frequency, maximum
5 Hz
Status indication
Note (Integral System Diagnostics, status )
The LED is illuminated when the guard is closed.
Scope of delivery
Included in delivery
Actuators must be ordered separately.
Accessory
Recommendation (actuator)
BPS 260
Recommended safety switchgear
SRB-E-301ST
SRB-E-201LC

Notes
Note (General)
Contact symbols shown for the closed condition of the guard device.
The contact configuration for versions with or without LED is identical.

Circuit example
Note (Wiring diagram)
The contacts S11-S12 and S21-S22 must be integrated in the safety circuit.
Language filter
If a document is not available in the chosen language, the English version will be used by default.
Download the latest version of Adobe Reader
Actuator
---
Control modules
103009970

SRB-E-201LC
STOP 0 Function
1 oder 2-channel control
Start button / Auto-start
2 Safety outputs 2 A
1 Signalling output
---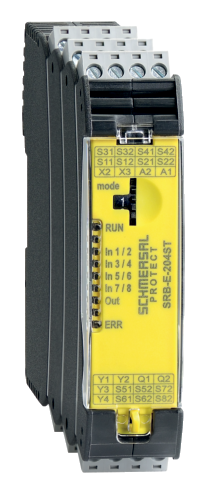 103009973

SRB-E-204ST
STOP 0 Function
Monitoring of 4 sensors
Start button / Auto-start
2 Safety outputs
4 Signalling outputs
---
103007672

SRB-E-301ST
STOP 0 Function
1 oder 2-channel control
Start button / Auto-start
3 safety contacts
1 Auxiliary contact
K.A. Schmersal GmbH & Co. KG, Möddinghofe 30, D-42279 Wuppertal
The details and data referred to have been carefully checked. Images may diverge from original. Further technical data can be found in the manual. Technical amendments and errors possible.
Generated on 12/04/2021 19:01:51