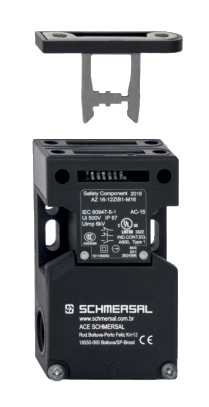 AZ16-03ZI-B1-M16
Long life
Double-insulated
Individual coding
52 mm x 90 mm x 30 mm
Insensitive to soiling
Thermoplastic enclosure
Large wiring compartment
3 cable entries M 16 x 1.5
Coding level "High" according to ISO 14119
Slotted holes for adjustment, circular holes for
location
High level of contact reliability with low
voltages and currents
Ordering data
Product type description
AZ 16-03ZI-B1
Article number (order number)
101150055
EAN (European Article Number)
4030661154497
eCl@ss number, Version 9.0
27-27-26-02
Certifications
Certificates
TÜV
cULus
CCC
EAC

General data
Coding level according to ISO 14119
High
Enclosure material
Plastic, glass-fibre reinforced thermoplastic, self-extinguishing
Material of the actuator
Stainless steel
Material of the contacts, electrical
Silver
General data - Features
Number of safety contacts
3
Safety appraisal - Safety outputs
B10d Normally-closed contact (NC)
2,000,000 Operations
Mechanical data
Actuating radius, minimum
250 mm
Mechanical life, minimum
1,000,000 Operations
positive break travel
8 mm
Positive break force, minimum
30 N
Actuating speed, maximum
2 m/s
Mechanical data - Connection technique
Terminal Connector
Screw connection
Cable section, minimum
0.75 mm²
Cable section, maximum
2.5 mm²
Note (Cable section)
All indications about the cable section are including the conductor ferrules.
Mechanical data - Dimensions
Ambient conditions
Protection class
IP 67 to IEC/EN 60529
Ambient temperature, minimum
-30 °C
Ambient temperature, maximum
+80 °C
Ambient conditions - Insulation value
Rated impulse withstand voltage
6 kV
Electrical data
Thermal test current
10 A
Switching element
Opener (NC)
Switching principle
Creep circuit element
Electrical data - Safety contacts
Voltage, Utilisation category AC15
230 VAC
Current, Utilisation category AC-15
4 A
Voltage, Utilisation category DC13
24 VDC
Current, Utilisation category DC13
4 A
Scope of delivery
Included in delivery
Slot sealing plugs
Delivery scope of Mounting material
Tamperproof screws
Notes
Note (General)
The axis of the hinge must be 5 mm above and in a parallel plane to the top surface of the safety switch.
Minimum actuating radius on hinged guards 250 mm
The actuator is not available separately.

Language filter
If a document is not available in the chosen language, the English version will be used by default.
Download the latest version of Adobe Reader
K.A. Schmersal GmbH & Co. KG, Möddinghofe 3, D-42279 Wuppertal
The details and data referred to have been carefully checked. Images may diverge from original. Further technical data can be found in the manual. Technical amendments and errors possible.
Generated on 21.09.2020 21:01:18